Mimaki TS30-1300 entry-level dye sublimation inkjet printer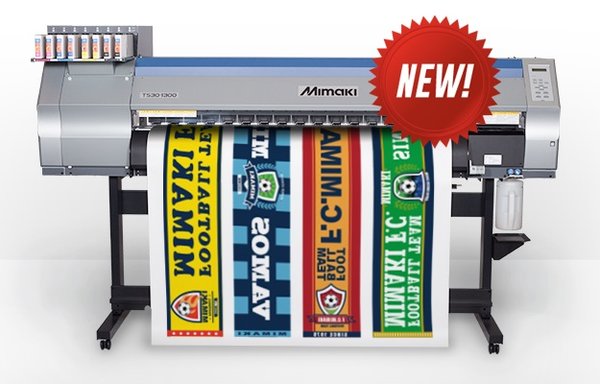 Mimaki TS30-1300 entry-level dye sublimation inkjet printer
Mimaki USA has introduced its TS30-1300 entry-level dye sublimation printer for light production environments. This 54-inch-wide, roll-based model is a dedicated dye sublimation transfer paper printer ideal for first-time users or design shops producing short-run pieces, samples and custom work for transfer to textiles or hard surfaces. The TS30 is best suited to just-as-needed production of apparel prototypes and custom goods. The printer is purpose-built for easy operation with features and functionality specifically for sublimation transfer printing.
Key features of the new printer include:
A selected set of functions designed for ease-of-use, even for novice users. The printer is bundled with Mimaki RasterLink6 RIP software, for a quick start to production immediately after installation.
High quality. The TS30 printer utilizes variable-dot imaging along with Mimaki Advanced Pass System (MAPS) that applies ink in gradations over several passes using a blending mask pattern. This unique imaging technology reduces banding and uneven color printing.
Just-as-needed production. This 54-inch model gives designers and print shops the ability to produce only what's necessary without the need to sub-contract, enabling them to maintain control of the quality and timelines throughout the printing-transfer-finishing process – as well as the entire revenue stream. It can achieve print speeds of up to 211 square feet (19.6 square metres) per hour in four-colour mode.
Economical dye sublimation ink and continuous printing. The TS30 printer uses Mimaki Sb54 dye sublimation inks that produce vibrant colours on polyester material. The printer can be configured to run dual-CMYK inks or in six-colour mode with the addition of light blue and light magenta. Mimaki's Uninterrupted Ink Supply System (UISS) automatically switches to a full 440-ml ink cartridge when one cartridge is empty (in four-colour mode). An optional 2-litre bulk ink system is also available.